Two sisters who are members of the 4-H Club — Holly Stevers, 14, and Sophie Stevers, 10 — had a remarkable year at the Wayne County Fair in Palmyra, New York, this year. Usually the girls only show their bunnies, but since Holly qualified for a super show award with her rented sheep, she also got the chance to showcase animals she'd never tried to show before: beef, dairy cows, goats, pigs, and alpacas.
"She had two days to learn," the girls' mother, Lisa Stivers, explained.
Fortunately, Holly got some help from her fellow 4-H'ers, who shared information about their animal specialties with everyone in the group as they prepared.
"It's great to see the kids get together and educate each other," said Lisa Stivers. Holly showed seven other people how to show a sheep.
Each youngster has loaned his pet to the other winners of the Super Show prizes to lead the ring.
Holly won the big show for her rented sheep. Sophie won the debut award in the junior category for her rented goats.
However, at home, girls are more involved in rabbits. They were named Best of the Breed for Sophie's mini-Rex and Holly received the Big Rabbit Hero Award as well as the Super Showcase Overall Award for Small Animals.
Win-win rental arrangement
The Stivers family lives in the village of Palmyra, but their location is not intended to allow the sisters to own livestock that they can display at the fair. Fortunately, they were able to rent sheep and goats from another 4-H family, Freys, so they could fulfill their desire to show off bigger animals. The arrangement helped both families.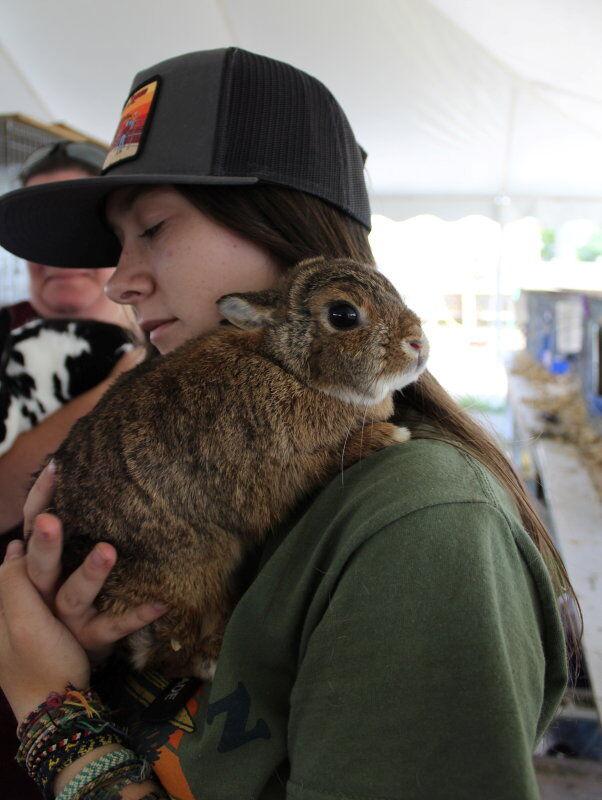 "The Fries had multiple animals and they didn't want to bring just one," said Lisa Stivers. "It benefited them. My girls could show up and the Fries didn't have to go back and forth for the animals left behind."
Stivers live just two blocks from the Wayne County Fairgrounds. Souds, New York, where the Fries family lives, is about a 40-minute round-trip drive from Stiver's home in Palmyra.
Stiver girls are well versed in taking care of rabbits. Holly has been showing her rabbits for seven years and Sophie for four. They said the rabbit show is mostly about cleaning and maintaining their fur coats as well as foot care, which includes preventing achilles infection and trimming nails. In addition to demonstrating knowledge of rabbit care, exhibitors must be able to handle their rabbits and turn them upside down.
"They're maneuvering around. A lot of rabbits don't like to tip over," said Stivers.
Caring for goats and sheep was new to Stivers. However, Freys and 4-H'ers helped them learn how to do it. The sisters also learned from watching videos on the Internet. For goats and sheep, mowing, shearing and washing make them ready for display.
"For goats, you want the flat top surface," said Lisa Stivers. "It is different to show sheep and goats. When you show a sheep, you hold its head. With the sheep, you use a collar. Although the animals are very similar, the way they are presented is very different. With rabbits, there are differences in how they are shown based on the breeds."
Lisa Stivers notes that as her children get older, their knowledge of animal care should advance. It is not possible to know everything, so it is important to constantly improve their knowledge.
She advises people who start showing animals to reach out to a group like 4-H or FFA, which works with the animal they want to show.
"Our dentist's kids wanted to show pigs," she said, for example. "I said the easiest way—since they live in downtown Rochester—is to join a 4-H group that cares about animals, and contact the local farms."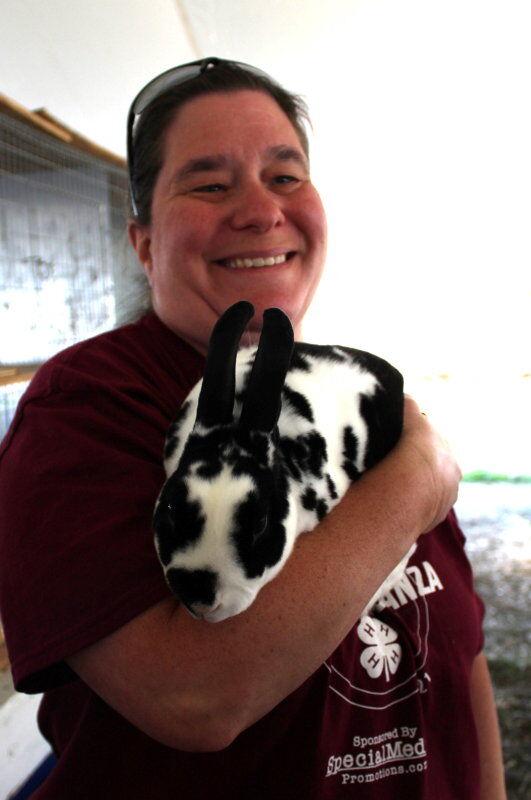 Some farms want exhibitors to come every day to help care for the animals. In the case of Stivers and Freys, the farm was far enough away that they eased the pace of care.
Taking a show animal, whether raising it at home or looking after it through a lease, is the responsibility of the whole family. Lisa Stivers thinks it's worth taking the life lessons kids learn and getting them outdoors.
"This is a skill related to learning the basics of our food chain: farming," said Lisa Stivers. We need to keep that and not lose sight of it when we go to the store and get food. They need to know where the food comes from. These animals are bred to provide meat and help the farm and community."
Holly and Sophie occasionally appear at regional bunny shows, but Stivers are considering expanding their range as the sisters' interest in the show grows.
Lisa Stivers said the show at the Wayne County Fair was "a time to learn from other 4-H'ers, hang out with friends and meet new people."
When she's not taking care of her animals, Holly enjoys competitive darts, shotgun trap, and skeet shooting. She's a 10th grader at Palmyra-Macedon High School this year. Sophie, in addition to showing the animals, enjoys the Girl Scouts and playing football. She is a fifth-grade student at Palmyra-Macedon Middle School.
This year was the 165th Wayne County Fair, which ran from August 8 to 13.
#Sisters #Learn #Super #Showman #Experience #Wayne #County #Fair #Farm #Shows #County #Fairs #Events #Conventions