The transition from inner city life in London to living on land in the Outer Hebrides is a big step.
One family did it – and they let the cameras follow.
Back to Uist He takes us on the adventure of a young family where they uprooted their lives.
The first episode of the BBC's four-part series on Wednesday at 8:30 pm.
City boy Alex Thompson Bayer, 36, gardener and blogger. His fiancée, actress Susanna Bolton, is 29, and their young son, Cedar, is five.
Here, we talk to Alex about the challenges he and his family face in their move to Locheport in North Uist.
It all starts during lockdown
They have limited funds, a house to build, and it all starts during the 2020 lockdown period.
Susanna grew up in Southern Uist but never felt like she belonged, and was eager to leave for the mainland as quickly as possible.
She wants to give island life another chance in the hope that Cedar will enjoy growing away from the city. It also haunts that elusive work-life balance.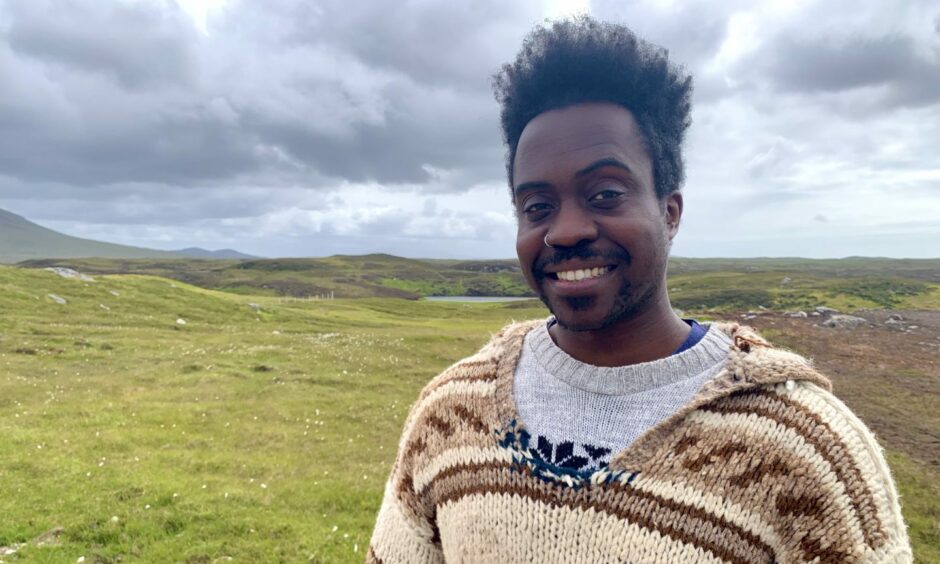 It's all about what you have and what you don't have
In south London, shops, clubs and restaurants were in close proximity to the couple. Their rural destination has four grocery stores, two petrol pumps, and ten people per square mile.
But Alex focuses on the positive side of island life. He said: There are no traffic lights. There are no rotors. No speed bumps, no paying for parking. It is much more than carefree.
"Cedar loves it. You put it in a field, and it can run up and down the ages, climb on rocks, play in the dunes, make sand castles.
The beach is all for yourself
"You go to the beach and you have the whole beach to yourself. You go to the beach in Brighton and you get a pebble."
But it's not all sunshine and flowers. In fact, there is a lot of rain. Alex says the documentary shows the good and the bad.
Viewers can watch all seasons and get a glimpse of what life on the island really is like.
A new beginning
When the family arrives after a 700-mile drive, the North Uist is still in lockdown, but soon they are able to start their new life.
They are staying with Susanna's parents, who moved to the Outer Hebrides from southern England 30 years ago.
The couple develops plans for their dream house.
Alex wastes no time slipping into the country lifestyle, preparing containers for ducks and chickens on the enclosure.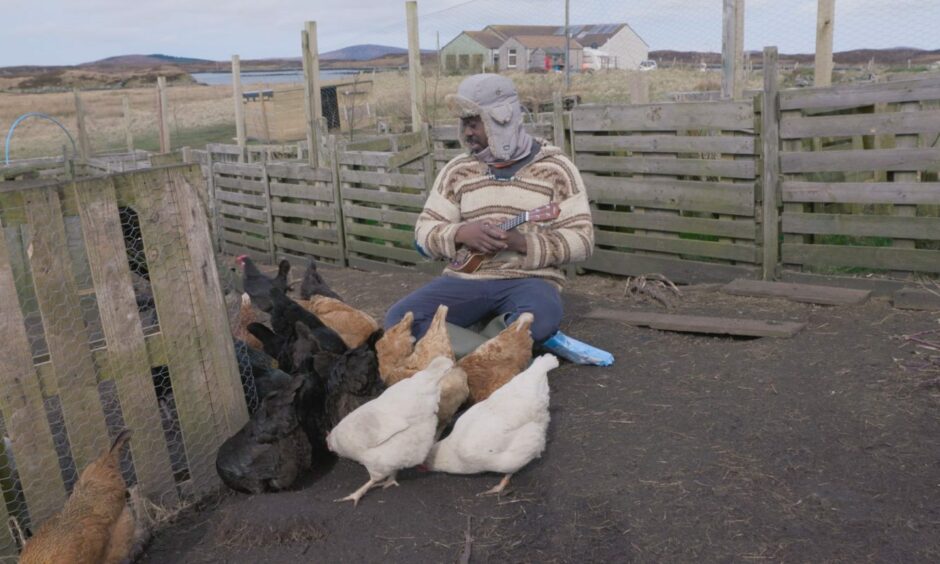 To make ends meet, he took a job as a delivery driver, and eight months later Susanna took a job three days a week at the local wool mill, cleaning wool for local weavers.
It is a good start to their life on the island. Susanna's spirits lifted after meeting with the architect to pursue plans for their dream home.
Spoiler alert – you may have already guessed, but the family is falling in love with their new life.
They seem to be staying
They have now been at Uist for over two years and are not planning to go anywhere.
"We're staying," Alex said. "We built a house and we're building a house."
Both have new jobs. While Susanna enjoys receiving commissions as an artist, she is also the Gaelic officer of Taigh Chearsabhagh Museum and Art Center.
Alex works as a seaweed harvester. The gardener has not lost sight of the benefits of this new resource.
'The proof is in the candy'
He said: The earth is beautiful. She puts in a little seaweed, some horse and cow manure, and the proof is in the candy. You should build a 5-foot wall around your plants to protect them from wind, deer, and rabbits.
"I planted some potatoes today. We have chickens and ducks and are getting a lot of eggs at the moment.
"Chickens love seaweed, it's great for them."
Find peace and have fun
"It's so peaceful. I'm just a kid. I love being around people, but I love being on my own too. Living here you can amuse yourself. You have time to do all the fun things you want to achieve in life."
"This place is perfect for all of us to do that."
He said the work-life balance on the mainland was "appalling".
He said people on the islands have more time to chat and do things that make them happy.
'The things that make me happy'
Alex added, "I have time here to compose music, make YouTube videos, play my ukulele, plant willows on the ground, plant trees, and make my beautiful garden grow. These things make me happy."
"It rains a lot. When the weather is good, we make the most of it. I was outside all day planting potatoes and feeding the birds. It was a good day."
"When the weather is bad, there is so much you can do. January and February are especially bad. But you can just go into your nice warm house and find fun things to do."
Susanna always wanted to come back
Susanna also found peace in her return to Uist. Speaking of his partner, Alex said, "She always wanted to go back. She didn't enjoy school, she was bullied and really wanted to get away.
"But she wanted to come back. She knew that was beautiful.
"She loves rocks. Susanna weaves what she sees using a loom and making patterns. She is very inspired by the landscape."
Make islanders famous
He said some locals appeared in the documentary. "I'm sure the people on the island will be excited when he comes out. I don't really know what to expect – I'm sure he'll be good.
"I take it in my stride – I don't feel like I'm famous. It might be different when he's outside. I'm standing by because I'm the only black person here."
"I think the documentary is going to be a good thing in all respects. Tourism is a big part of Uist."
He added, "I hope it inspires more people to go out and try it for themselves. If it doesn't work out, you can always come back."
They are not the first to fall in love with Uist. Forsa's trip to the island ended in changing the life of the artist, Emilie Chartier.
Back to Uist It is a Salamanda Media film for BBC Scotland.
Already subscribed? sign in
[From London Life to life on the croft]
[[text]]
#London #Live #life #board