Veterans Find New Direction and Fulfillment Through Agricultural Programs Offered by North Carolina Veterans Ranch
"One of the biggest problems I've had is that I no longer have a target, because in the Marine Corps, you were built to have very big ego," Robert Elliott told The Epoch Times.
This problem is not specific to Elliott or the Marines specifically, but it is common to many veterans who have recently transitioned from military service to civilian life.
The lack of purpose, structure, and support network can be devastating to veterans. It was definitely for Elliot – until he found a way to get all three back.
his answer? Agriculture.
But he didn't stop there. After Elliot realized what life-saving farming was in order to transition back into civilian life, Elliot began Veteran farm in North Carolina (VFNC), where it offers agricultural programs to other veterans who currently hold the position it once held.
Beginnings
Born in 1979, Eliot grew up on his aunt and uncle's farm in North Carolina, where he learned farming and ranching at an early age. However, it wasn't a great life.
"Growing up, we always seemed to be broke," Elliott said. "The fact of the matter is that farmers struggle more than they thrive."
Not wanting to live the life of a poor farmer, Elliott joined the Marines' Deferred Entry Program at the age of 17, while still in high school. He was recruited after graduation.
Elliott served for five years, making the rank of E4 corporal. He then worked as a civilian contractor for the Army in North Carolina, where he was stationed in his last position. "I've been around my military unit for 15 years," he said.
This ended up cutting the contractor from the Ministry of Defense. It was 2011, and he was having a hard time finding alternative work.
"Out of sheer necessity, I had little choice but to go home to the farm," Elliott said.
"This is what I refer to as my transitional suicide time," he explained. "A lot of veteran community suicides occur during the transition from military to civilian life, usually after about nine months because we were disconnected from our support network overnight."
Elliott has lost eight siblings he served with in the Marines – six of them committed suicide. One of them ended his life the day after his retirement party.
A chicken saved her
One day, Elliot was on the farm trying to study for a final exam (he was in college at the time) but he wasn't in a healthy state of mind.
"Nothing has ever worked well for me," he said. He was "very miserable" and thinking dark thoughts.
His girlfriend at the time recently bought some yard chickens. One in particular, Adele, would regularly jump on his lap or try to steal food from his hands.
"It kind of dawned on me one day: I should probably try planting and see what I can do with it," Elliott said. "A chicken saved my life."
Now, Elliott uses farming to give hope to other veterans through VFNC.
unique education
Elliott describes the whole process as a "farming training camp."
his mission? "Giving veterans a new job and a new farmer America."
North Carolina has an aging farming population and a military and veteran member population of 666,000, making Fayetteville, North Carolina the ideal location for VFNC to train a new generation of seasoned agricultural entrepreneurs.
It has three hands-on programs that educate veterans in how to farm, which include both organic vegetables and livestock production as well as agricultural history, theory, and concepts. About 20 veterans are enrolled in the programs at any one time.
Two programs, each of six months, and the other four months. One, the "Agriculture Soldiers" program offered through the Agricultural Institute of North Carolina State University (AGI) and taught at Fort Bragg, is the only one of its kind.
VFNC also partners with government programs, such as the Department of Defense's transition program, SkillBridge, where veterans can sign up for specific industrial training, apprenticeships, or internships to learn skills for a civilian career field.
Active-duty individuals may register within the last 180 days before transitioning to civilian life, with approval from their unit and the SOLTA Transition Program.
Elliott also finds veterans through AGI and classes he teaches in the Soldier to Agriculture Program.
Farming with the family
Donovan Holloway is a farming veteran with the SkillBridge Program in partnership with VFNC.
His background has nothing to do with farming.
Holloway was born in Jacksonville, Florida in 1981. His father was a professional sailor in the Navy, so Holloway spent most of his youth living on military bases, including Guantanamo Bay in Cuba.
"I joined the army at the age of 18," Holloway told The Epoch Times. His parents separated and he felt he needed some stability in his life and the Marine Corps would provide that.
Holloway was deployed to Iraq in 2003 as part of the initial invasion. After a while, he was stationed in Hawaii, where he met his future wife, Lauren.
Holloway returned to Iraq with an air control unit, where he worked as a door gunner on a helicopter armed with a machine gun, and at times had to fire that machine gun.
"We have also been involved in two raids in and around the country," he said.
Through an education program offered by the Marines, Holloway earned a bachelor's degree in business administration along with a promotion to second lieutenant. This was followed by a Master of Information Technology and a promotion to the rank of Captain.
"Somewhere along the line, I got married and had kids and got stress at extreme levels," Holloway said half-jokingly.
Unfortunately, he said, I lost my comrades, both in combat and through suicide. "There are a lot of things we go through as veterans, a lot of experiences we go through, especially during a war, and your feelings ebb and flow. There are a lot of things that make me anxious or keep me going."
Agriculture has found a curative method.
"I needed to restore some kind of balance in my life. I found being outside – being with the animals, growing things, and seeing the fruits of my labor right in front of me rather than sitting in meetings all day – I found that was relaxing for me."
The Holloways owns 50 acres of land in Georgia, which was originally owned by Lauren's ancestors.
"It's been on my father's side of my family since the Emancipation Proclamation," she told The Epoch Times.
Although her ancestors even her great-grandfathers were pig farmers, Lauren's father joined the army, essentially ending the family's farming legacy.
The property in Georgia was farmland at one point, but as Lauren explains, it "must be reclaimed." And that's what Holloways plans to do.
He has also been wonderful to his family. Holloways homeschool their five children, so "everything we do is a lesson," he said. Another advantage is the food that the farm provides.
"I enjoy the time when I'm able to be outside with my family all day, and do things together," he said.
Holloway also has an invested interest in using his farm and farming skills to help other veterans in need, even using the place to provide research and development.
A combat paramedic who switched between farms
Lizzie Hubbard works alongside Holloways on VFNC.
Hubbard is from Texas, where she and her four sisters grew up on two acres with cows, chickens, ducks, and rabbits. Her mother was from Pennsylvania and had a green thumb, so she was able to grow plants successfully, although the climate and landscapes of Texas were not always conducive to this.
A few years after college, at age 24, Hubbard joined the Army as a combat medic. In Iraq and Afghanistan, she was in the midst of it.
"My unit was at IRF [Immediate Response Force] All my time there, which means we've deployed three times in eight hours, including the last deployment to Afghanistan to take out refugees."
"As a physician and then a senior physician in my unit, there is a lot of responsibility that you have for the welfare of your buddies if things don't go well for them," Hubbard said. "It might be hard to get over it."
She spoke of the "ethical challenges" that occur during deployments, and as a senior physician she was the only person "who is really allowed to speak in the moral sense when you don't have a lot of ranks," adding that this responsibility "has a lot of challenges that come with it as well."
Now, Hubbard is in a three-month transitional program, which she implements on site at VFNC.
At first, she wasn't sure she had enough farming experience to become a successful grower, but after a month working with Elliot, she felt confident enough to pursue a flower farm in Massachusetts, which she plans to open in November.
Like Holloway and others on VFNC programs, Hubbard found transplantation to be curative.
"Not only can you grow and heal, and make beautiful things that nourish people, whether it be food, animals, or flowers, but you are also responsible for it," she said.
Parnell acre
Ray Parnell was born in 1970. "I grew up in rural North Carolina. My grandfather was a farmer," he told The Epoch Times.
After school and on weekends and during the summer, he worked on the farm with his family.
After that, Parnell joined the army at the age of 18 and got 22 years working.
Although he was never suicidal after returning to civilian life in 2010, Parnell said this: "Having been in the military and doing some of the things we do in the military and going through, the problems of the civilian population don't seem that important. So we We are having a hard time regarding the people who did not share that military trip."
During his time in the service, Parnell lived in a variety of areas and residences, including suburban apartments. But after his retirement, his rural roots called him.
"I always knew I wanted to live in the country; I always knew I wanted to own the land," he said. "About three years ago, I decided I would start farming."
In a common scenario, after his grandfather's death, Parnell's mother and siblings sold the farm in parts, so Parnell had to find a new piece of land to call his own. He bought his new farm last December and named it Parnell Acres.
Before that, Parnell bumped into a Farm Service Agency veteran who told him about Elliott's lessons. Parnell spoke with Elliott for 15 minutes and subscribed to a previous version of one of his shows.
"Organizing lessons — it stems from Robert's background in the Army," Parnell said. "Very structured, very structured, and I think that's something a veteran can relate to."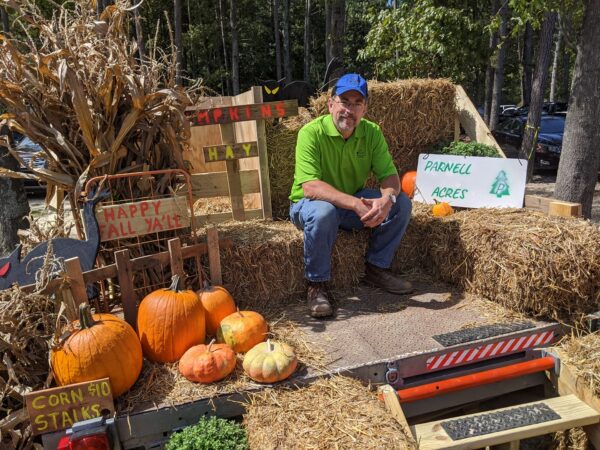 The programs established a future network among students. One of Parnell's associates owns a farm in Guilford, New York; He bought her hay and she bought him pumpkins.
But it's not just professional relationships that begin; It's also a support network among veterans.
Parnell summed up VFNC's goal this way: "The key point behind it is not just a conduit for people interested in farming to be able to farm, but also fraternity and brotherhood for like-minded people who have some common experiences."
For Elliot, this is exactly the kind of network he was lacking when he was transitioning back into civilian life. "I had no idea I would do something like this," he said. "This is my 100 percent connection. I see now."
#Meet #Navy #pals #mission #Americas #farmers