Fall is finally here, which means it's time to switch up your summer outfits and make room for your favorite seasonal styles, including essential cold-weather accessories like hats, scarves, and gloves.
I know from experience that cleaning and reorganizing the closet can present its challenges, both from a practical and an emotional point of view. Whether we want to admit it or not, closet organization is kind of like sorting through a pile of keepsakes and deciding which memories to keep and which ones to purge.
Perhaps you'll come across the dress you wore on your first date with your husband and decide to keep it, even if it doesn't fit or go with your style anymore. Perhaps you will discover memories that you will gladly part with, like an old outfit from a previous job you despised.
Whatever your situation, making these decisions can be difficult, but it can also be very liberating. If you're finally ready to stand up to your closet and organization demons, here are a few tips that helped me transform my space from a disorganized disaster into a beautiful and functional closet.
Start with a clean slate
Take it all! Yes, I mean everything. From the highest shelf to the deepest corner, be sure to empty every nook and cranny of your wardrobe.
I knew I had a lot of stuff crammed into my closet, but removing every single piece made me feel like a wizard pulling rabbits out of a hat. How did I manage to fit so many duvets, rolls of wrapping paper (folded and torn now), and a bag in my small space? All I can say is that if your spam jamming skills are as impressive as mine, you'll spend the time of your life with this one.
After you completely empty your closet, wipe down the walls, dust the shelves, and vacuum the floor. At this point in the project, my husband and I usually go into evaluation mode. This is where we basically stare at an empty space for a while and think about the changes we can make to help our space reach its fullest potential.
Silent staring has actually led to some of our best home project ideas, so give them a try and see what you come up with! With nothing but empty space, ideas for organizational systems, such as shelves, shoe racks, or even a small wardrobe, can emerge. You may stumble upon a new design that simultaneously saves more space and is more efficient for your needs. And if your creative juices get really flowing, maybe you can imagine adding a splash of color to your interior cabinet walls or a stylish wallpaper pattern.
take stock
What did you have there, anyway? Now that you've brought all those hidden clothes to light during the "deep cleaning" phase, you can easily sift through your clothes to determine which ones you should have and which ones you feel ready to part with.
Try each item one by one and decide if you want to keep it, donate it, or store it somewhere else. This part of the process is the hardest of all for me, but very healing at the same time.
Finally, I donated a shirt I looked horrible in during a group photo six years ago that felt really, really good. But deciding whether to keep the formal office clothes that are no longer necessary because I now work from home was more difficult.
If I'm on the fence about keeping or donating something, I'll ask myself if it's still a good fit. If that happens, I'll store it somewhere else. Too loose or too tight? Send it to the donation pile. As you downsize your wardrobe, remember that doing so will leave you room to add new looks and styles. Likewise, you can easily shift your focus to the clothes, shoes, and accessories you will need to withstand the cold weather of the upcoming season.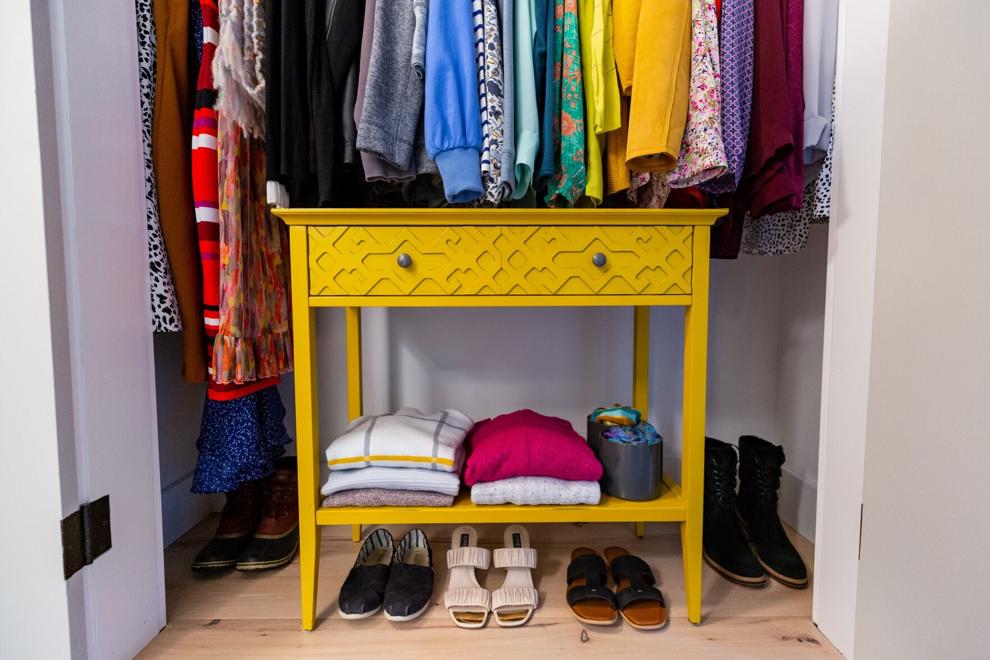 Create a system
Contrary to what you might read elsewhere, there is no one-size-fits-all solution to our wardrobe clutter problems. In the end, the really best organizational system will be whatever works best for you, and of course your budget.
As for me, I wasn't willing to invest in a new regulatory system because I know it can be very expensive. Instead, I went treasure hunting in my basement to find something that could store my favorite pieces of jewelry and accessories.
I ended up reusing an old console table that's been in storage since we moved three years ago. Bonus – the bottom shelf is perfect for storing my heavy sweaters and the mustard color adds a nice touch to my boring space.
Maybe you have something in your basement that isn't meant for a closet, but could be reused? Once you have your organizational structures done, it's time to fill your closet back up. Depending on your work, lifestyle, and social calendar, you may have a variety of clothes and accessories that need to co-exist in your wardrobe system. Here is one of the most adaptable closet organization methods that you can try in your space:

keep going
And all the hard work is done. Now, you only need to keep this well-oiled machine running. Here are some additional storage tips to help you in your quest for permanent organization.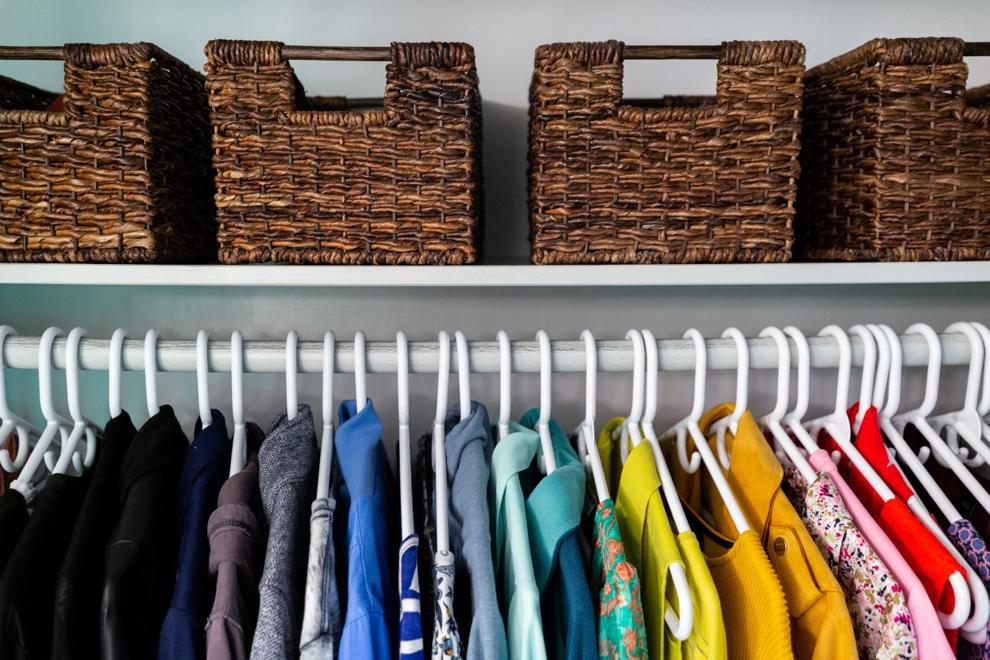 Tips and tricks for organized storage
• Shoes: Think vertically. Shelving and storage at the back of the door are great space-saving tools.
• Ties: Rotary tie-down racks mount to the wall and often contain up to 50 ties.
• Hangers: Need more closet space? Thin hangers can help. Bonus points if they all match!
• Jewelery: Jewelery box overflowing? Store your jewelry in a dresser drawer or use a hanging board on the wall of your wardrobe.
• Wallets: Use a folder divider to store bags perpendicular to the shelf.
• Scarves: Save space by hanging several scarves on one hanger instead of folding them in the drawer
• Hats and Gloves: These lightweight seasonal accessories are perfect for top-shelf storage.
---
To read more balance stories, click here.
#Room #clutter #Organized #Simple #Tips