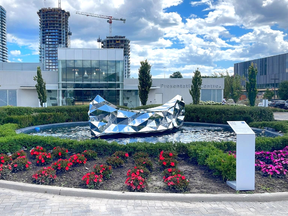 Reviews and recommendations are unbiased and products are independently selected. Postmedia may earn an affiliate commission from purchases made through the links on this page.
Article content
Public art that resonates with the people gives life to the city. Consider Chicago's Millennium Park's 'Cloud Gate' – or 'The Bean', as artist Anish Kapoor's luminous sculpture is called.
Article content
Made of 168 reflective steel plates, the giant legume-shaped work is a popular spot for taking selfies.
Article content
In fact, The Bean is the most visited attraction in the Midwest, attracting five million people annually. In 2017, it was the number one tourist destination in Chicago and was placed among the top 10 places to visit in the United States.
Bean's presence has made Millennium Park's impact, Mark McClelland, co-founder of Australia's Cultural Capital and sculptor himself, wrote in his blog on mcclelllandstudio.com: "In the short time since the park's inception, it is estimated that a $10 billion real estate development has been undertaken in …close to a park that (s) benefits from the improved views and amenities it creates."
Article content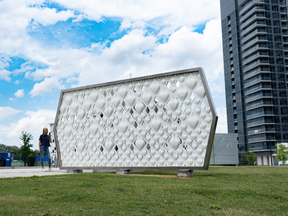 In short, enjoying a view of The Bean is no different than seeing the Eiffel Tower from your window. Could this type of cashmere associate itself with a public art project in a Toronto apartment?
It certainly could give the apartment a standout: Think Safe Hands, the 88-foot-tall steel sculpture by industrial designer Ron Arad climbing the exterior of One Bloor in the Great Gulf; Or the "rise" of Zhang Huan, the ominously tangled flock of birds around living in Shangri-La at the university south of Richmond.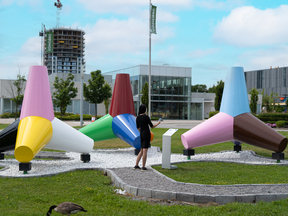 Concord City is another location filled with public art installations. "The Red Canoe" by Douglas Copeland, in Canoe Landing Park, overlooks the Gardiner Expressway west of Spadina. It was such a hit that people climb inside, probably to watch the traffic.
Article content
Behind the Concorde Buildings, Karen Mills. Artistic coordinator and general technical advisor at Concord Adex has spent five decades in the art world, and the past 23 decade with Concord. She also noted the success of Copeland's "Popper Plaza" at CityPlace.
"You have these giant fishing floats and water fountains that are thriving," says Mills, who was also the liaison for Kapoor's first lot in Toronto, in 1995, "The Mountain" at Simcoe Place. "When you watch kids and dogs running in Bobber Plaza, it's hysterical."
Mills says that public art does not have to be esoteric. It refers to the collection of works in ArtWalk. The program will help launch Concord's Park Place, a 45-acre master planned community coming to North York. There will be 20 residential towers on the project, along with the largest critical mass for public art of its kind in Ontario.
Article content
Over 20 items are currently on display. ArtWalk participants can meander down a cobbled path – taking about 20 minutes or so – to immerse themselves in art along the way. There are explanatory banners with each artwork, along with QR codes that allow users to explore them further via a treasure map-style app called Eventzee.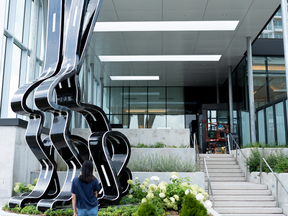 "We made short documentaries like in a museum to explain everything," Mills says. "You can hear the artists talking about their work, and it's not full of artistic talk."
As for how the plots are chosen, Mills says, "Park Place towers are grouped around a large central park. We wanted to commission a work of art that had a strong sense of the earth."
"Peacemaker's Boat" for example by Mohawk artist Guy Havens is a reflection in every sense of the word. The faceted statue is as striking as a huge elongated diamond.
Article content
"About a year ago, he got money from Waterfront Toronto to do a temporary installation that would float in the harbor," Mills says. "Jay and I were talking and I said, 'What happened to the boat?'" Do you sell it? "
He was pleased, and the plan was to permanently install the canoe at Concord's Canada House downtown after the townspeople could enjoy it.
"This is really more than I could have ever imagined," Havens says. "I sincerely hope that people who have had the opportunity to see this work in his new home will be inspired by the Haudenosaunee story of the peacemaker and learn something new about the region they call home."
"Jacks" by Pierre Poussin, a colorful homage to the popular childhood game, is another on-the-go figurine. Once placed in The Bentway, under the Gardiner, it is now permanently located on Park Place.
Article content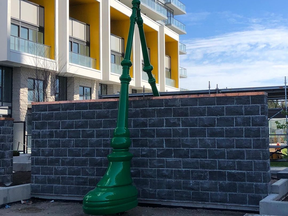 "We moved it to the marketing hub in upstate New York,[so that]suburban residents also can enjoy bigger commissions they might not otherwise be able to see," Mills says.
But there is no "pool", the heavy and beautifully carved rocks of the original artist Michael Belmore. Stones were dug out of the ground for the Park Place buildings.
"For Anishinaabe, stones can be seen as vital and have strength and memory. The work is a kind of collaboration between man and rock, between human age and geologic time, or deep time," says Belmore. "While these stones were found on the property, they were transported here by icy forces thousands of years ago. The work is a celebration of our collaborative journey. The stones' scale and texture are not only a visual statement but attract children to interact with them in a tangible way."
Article content
Other impressive installations include the "Rock Scholars" pavilion by Ken Lom's pavilion, the "drop" trellis by Kimies Studio, and the maple trellis by the Dutch group Verhoeven Twins.
Two of the fun must-see works – "Highway Rabbit" and "Leaping Lamp" – come from the imagination of Inges Idee, a quartet of artists.
"We know we have a lot of families, so in this competition we've included artists who can really entertain people, without getting cheesy and stupid," Mills says of the business.
"[Highway Rabbit] It has a strip of highway, since we're near 401. It's as if a portion of the highway was lifted and rolled like licorice to create (that)," says Mills.
Meanwhile, the lamp looks raised from a view of Victorian streets. "Except this one works. It takes a step over the wall. Kids love things like this," says Mills. "It helps people understand art doesn't always have to be so serious that you have to read a long statement to get an idea of ​​what it's all about. ."
Article content
Could one of ArtWalk's pieces be Toronto's Bean?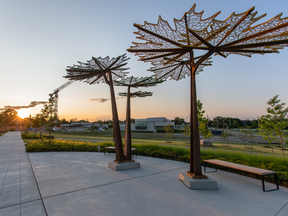 It remains to be seen, but one thing is certain: investing in large works of art leads to public spaces that encourage participation.
This is the reason for the city's Percentage Public Art Program, which, when it went into effect in August 2010, states that 1 percent of the costs of a large private sector development capital project should go toward public art. (Doing so confers benefits to builders, who can use their participation in the program as leverage to negotiate discrepancies.)
"Some developers refuse if they are told they have to. They don't understand what the broader benefits of all are," Mills says, though she notes that "Cadillac Fairview and Oxford Properties have done a fantastic job in public art."
Article content
By Mills, you want to see more than government grants to artists.
"What is lacking are programs where artists can make artwork for the public as part of the achievement for which they are paid," she says.
Mills sees more opportunities for art to make a civic impact. I would like to see a program for artists to receive funding and training to develop artwork for use in the design and development of healthcare facilities. Not to make paintings to attach to walls but to create designs incorporated into wall finishing systems." "We have learned from research that art, especially bio art, has clear positive effects for promoting healing and improving mental well-being."
#Urban #life #runaway #lamppost #giant #wavy #rabbit